Three weeks ago, we found them. I decided to look at the Southeast Llama Rescue (SELR) website on a lazy Sunday afternoon. And there they were: Miss B (previously named Miss Behavin, but why set her up for rudeness?) and Mindi (previously named India, but it just didn't fit…Mindi with a heart atop the final i fits her better). I immediately filled out an application with the rescue organization and sent an additional email to the adoption coordinator for safe measure. In a few hours, our lives here on Wildefern Farm changed…all for the better!
We learned that Mindi and Miss B are both Meningeal Worm survivors. This is a horrific worm that comes from white tail deer droppings, gets onto pastureland, and is ingested by llamas and alpacas as they graze. It is usually fatal, as it attacks the nervous system, rendering the poor animal weak in the back legs and finally paralyzed. These two sweet creatures had been part of a herd that was left to fend for themselves on land that their person wanted cleared. Most of the herd died from malnourishment and/or Meningeal Worm. But Mindi and Miss B were nursed to health by their foster family. They continue to be pretty severely underweight, but they are able to get up on their own and walk, albeit with a limp. Miss B is especially weak in her hind legs, but we're hoping she will gain strength from our daily physical therapy walks. Both will require monthly deworming paste or injections to ward off any future recurrence of Meningeal Worm, which would most likely kill them.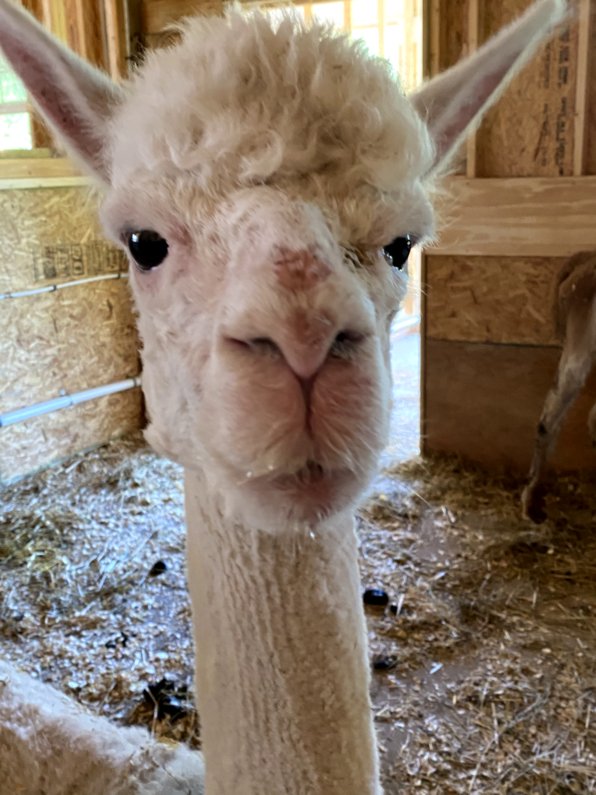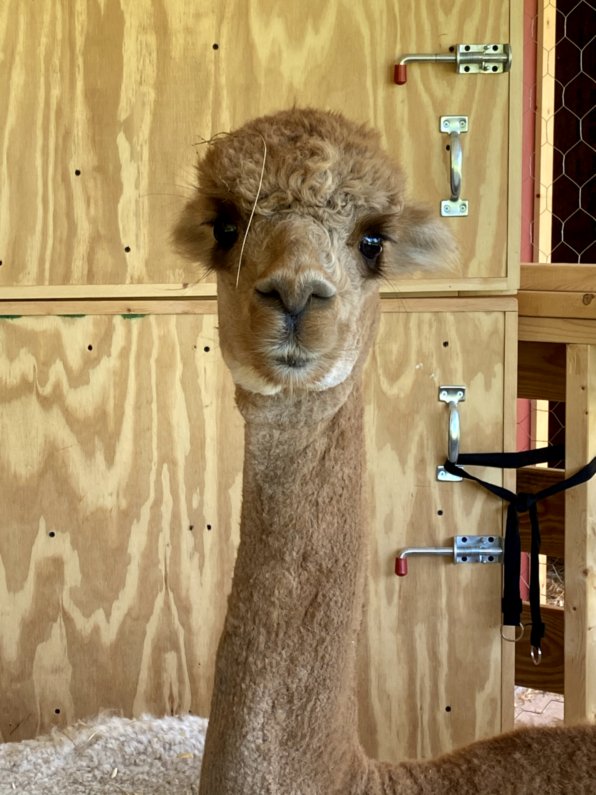 We sadly learned that both had been adopted out before us, and that Miss B had a cria (a baby, in alpaca terms). But the former adoptive farm had a dog that attacked and killed the cria, and a significant dog bite was found on Mindi's neck upon shearing after the foster took them back.
These two sweethearts have been through hell, to put it mildly. But they're safe now and seem very well-adjusted, considering their past.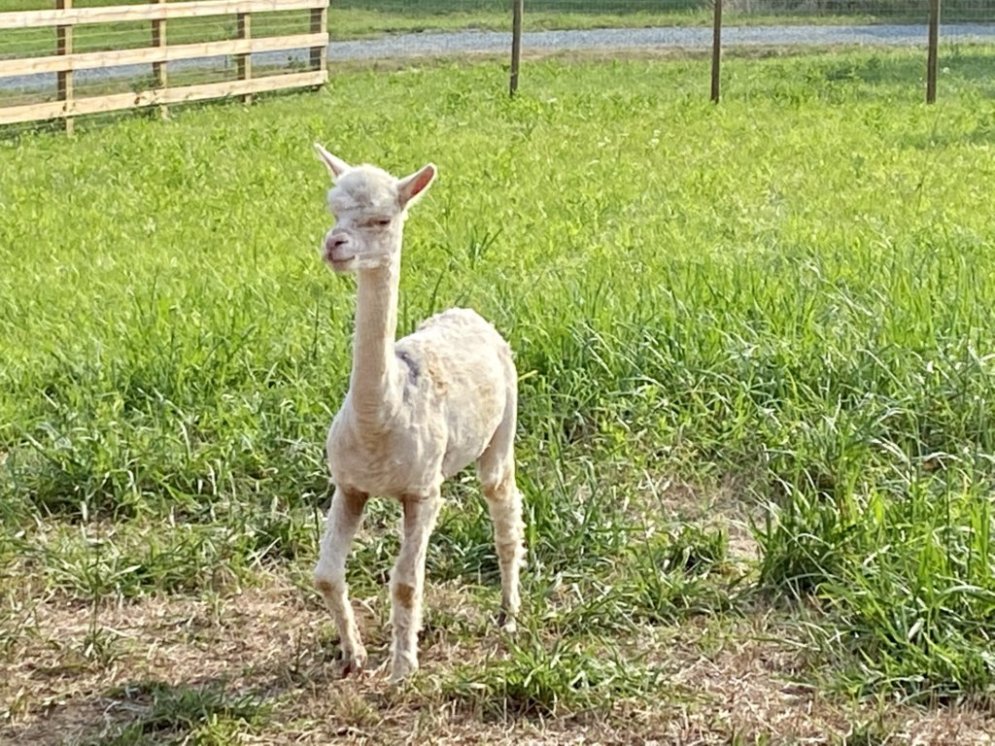 Along with our adoption through SELR, we were connected with an alpaca mentor, Laina Peck-Bostwick, who works at M&M Alpaca Farm, just 20 minutes from us. In speaking with Laina, she told us about two rescued alpacas who were currently living at M&M. She offered to give them to us to live out their lives here on Wildefern Farm. So, within a week of Mindi and Miss B's arrival, Madilynd and Morgan pulled up in their trailer, ready to meet their new sisters.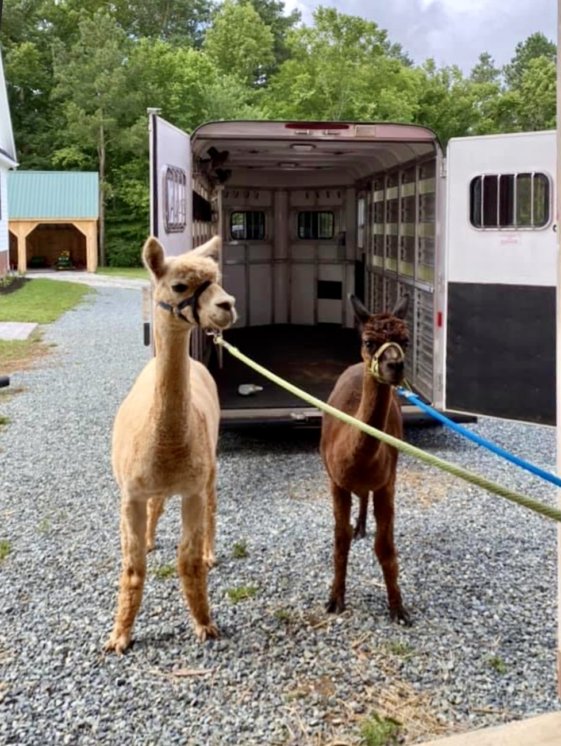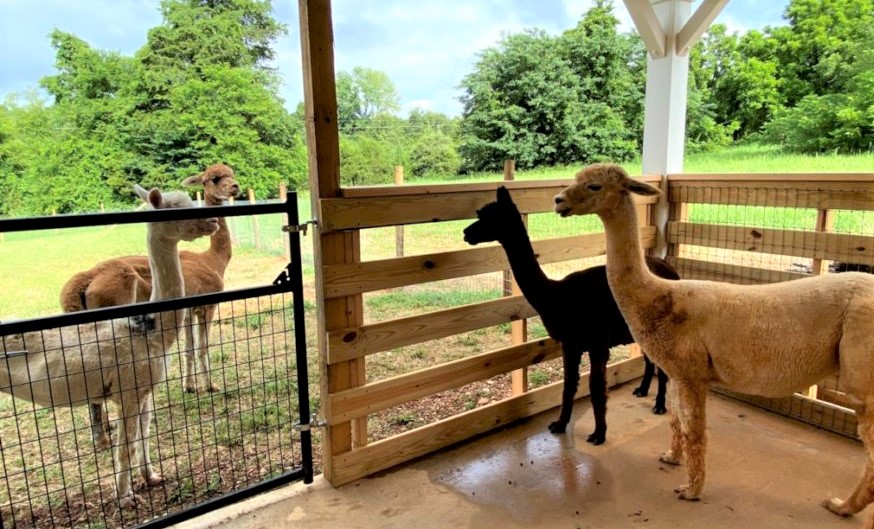 Laina had been part of Madilynd and Morgan's rescue a few years ago. They had been living on a farm that, although there was hay and feed available, their person no longer fed them or cared for them. Alpacas were left to die in the pasture, and many more were found dead in the woods. M&M rescued about 14 of them. These two girls are a bit more timid than Mindi and Miss B, but they are settling in fine. Morgan is on a diet, as she's about 30-50 pounds overweight, and Madilynd likes to talk (hum) a lot.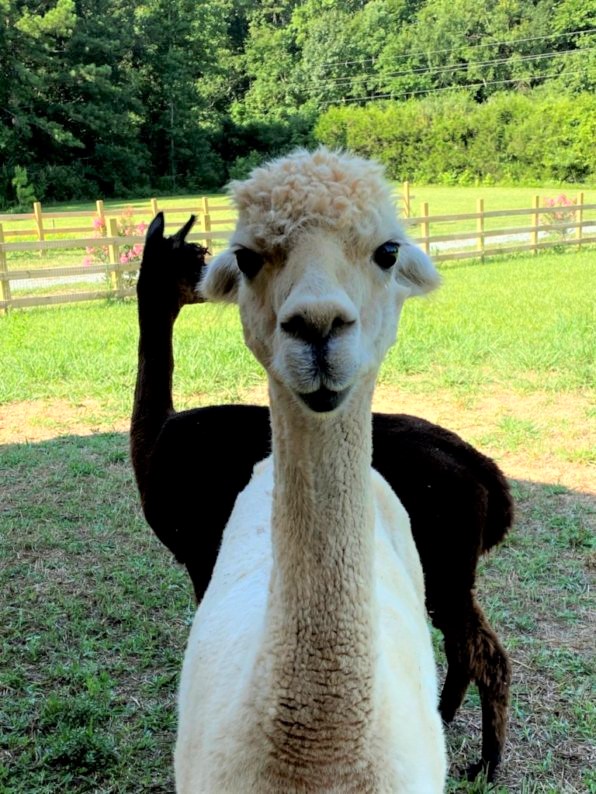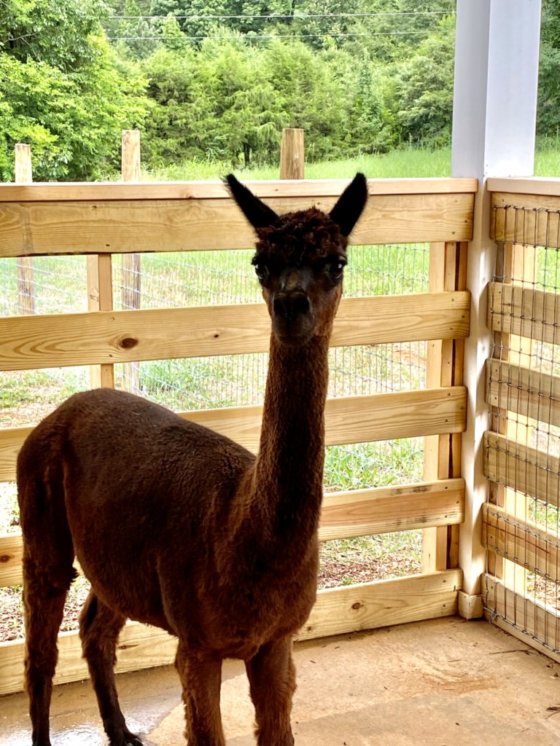 Mindi and Miss B continue to be quarantined in their stall, which doesn't seem to be a bother to them at the moment. We continue to work on fighting parasites with them and our wonderful mobile vet. And they both seem to be gaining weight and strength just in the little over two weeks they've been here.
We've had quite a hot spell here in North Carolina, and happily, all four alpacas love the water hose! They enjoy having their bellies hosed down, and I swear, if Mindi could laugh, she'd be giggling throughout her hose-down!
Alpacas are creatures of habit. So each morning before we humans eat breakfast, we open the barn and get everybody up and fed. We sit and read and talk with them often throughout the day. We halter Mindi and Miss B, and take them for walks outside so they can get some exercise and some grass. We have fun hosing everyone down. And my compost pile grows every day after I muck out the stalls.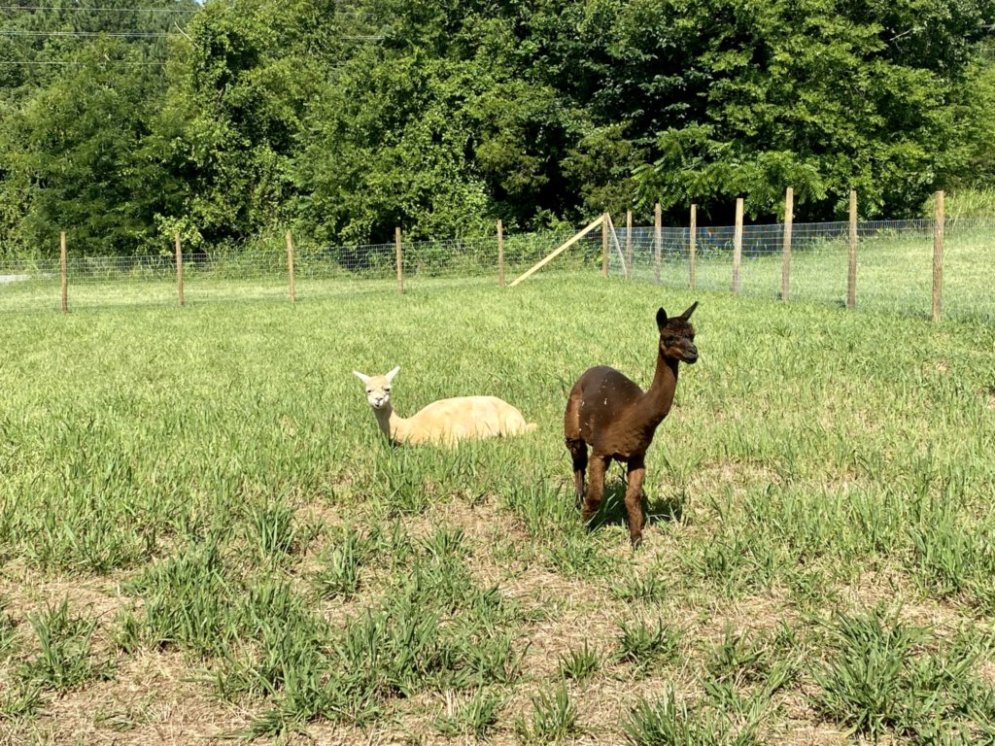 And each night after sunset, we venture out to bring Madilynd and Morgan in from the pasture, put down fresh pine shavings, and close all the outside stall doors so everybody is safely tucked in. As we slowly shut the big barn door, we tell them all we love them and that we can't wait to see them in the morning. I think they know.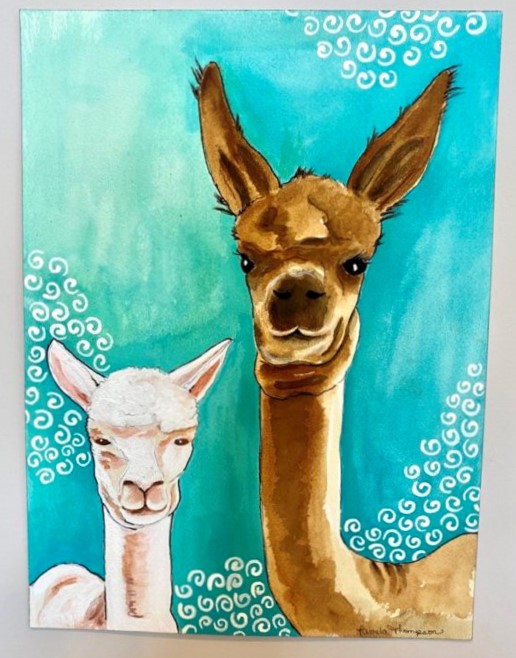 ---
Up next…our barn is filled not only with our four four-legged friends, but now also with nine two-legged friends! I'll fill you in on the chickens who arrived at another time.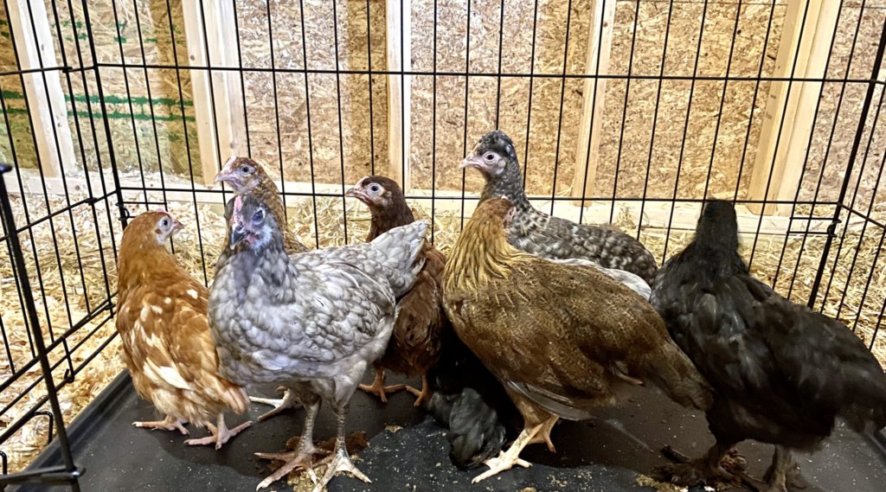 ---
You can find out more about M&M Alpaca Farm here.
Want to adopt or support rescued alpacas or llamas? Contact Southeast Llama Rescue here.
---