I've been a follower of Karen Pullen's plant-based eating column in a local Chatham County newspaper, and had the chance to meet her last year at Piedmont Farm Animal Refuge. I knew she would provide an excellent conversation as part of our Growing the Farm blog. Here are some tips and recipes to get you started or renewed with plant-based eating.
Barbara: Please tell us a bit about your background, Karen.
Karen: I've walked a twisty path! I was a math teacher, then a mom, then a graduate student, then an engineer. I worked for a consulting firm for 16 years, then spun 180 degrees and moved to NC where I opened a vegetarian B&B, Rosemary House in downtown Pittsboro. I also started writing fiction. When I sold the B&B after 18 years, I decided to help people explore the health benefits of plant-based eating.
Barbara: You're certified through T. Colin Campbell Center for Nutrition Studies at Cornell. What was that process like?
Karen: It's a six-week online course, self-paced. It covers the science behind a plant-based diet, the role nutrition plays in chronic disease, the impact of food production on the environment.
Some background: Dr. T. Colin Campbell and his son, Dr. Thomas Campbell, published The China Study in 2005, an epidemiological study of the diet, lifestyles, and diseases of rural China. What they discovered shocked them: eating plant foods may be one of the leading determiners of health in rural China, and, conversely, eating animal protein may be one of the leading causes of disease in the Western world. They continue that work with extensive research and writing on health and nutrition.
Barbara: When, how, and why did you begin eating a plant-based diet?
Karen: I became vegetarian 29 years ago, once I made the connection between what was on my plate and living, sentient animals. It was an ethical decision that I felt strongly about. Animals are exploited, abused, raised in horrific conditions, and slaughtered just so money can be made from their bodies. I didn't want to be part of that economy.
About three years ago I decided I didn't need dairy or eggs either. There are many alternatives; it's not difficult.
It's the healthiest way to eat. The evidence is strong that heart disease, obesity, diabetes, high blood pressure, and some forms of cancer are due to the animal-based Western diet.
Barbara: What challenges do you find in eating plant-based?
Karen: I don't find many challenges, or maybe I'm just used to dealing with them! I have to read labels. Eating out can be a challenge but lately more restaurants offer plant-based options.
Barbara: How has a vegan diet affected your health — both physically and emotionally?
Karen: I'm medically boring—no health issues at all. I have plenty of energy. I think that's due to diet. Emotionally? It feels good to know that there's no cruelty on my plate.
Barbara: When did you begin your business, Everyday Plant-Based? Can you tell us about what you offer?
Karen: I began my cooking school about a year ago. When people think about going plant-based, sometimes their first question is, "But what will I eat?" They are so used to meat, milk, and cheese-based dishes. I want to share the answer to that question, that eating plant-based is just as everyday as eating any other way. It's a matter of cooking a little differently, maybe some new ingredients.
Before we knew about the COVID-19 virus, I was offering monthly cooking classes in my home and class series in different venues like places of business and community centers. That all ended in March, of course.
Now I offer online cooking classes using the Food for Life curriculum developed by the Physicians Committee for Responsible Medicine. I became a FFL instructor last August. The class schedule is on my website, www.everydayplant-based.com.
Barbara: Do you have a garden? If so, what is your favorite vegetable to grow?
Karen: A small one. I have a couple of raised beds that grow greens, lettuce, tomatoes, and basil. Many of our vegetables come from a CSA share from Red Roots Farm every Saturday.
Barbara: What resources could you suggest for someone wanting to eat a more plant-based diet?
Karen: For inspiration and motivation, watch Forks Over Knives (now on YouTube) and The Game Changers (Netflix).
Read How Not to Die by Dr. Michael Greger, The China Study (mentioned above), and books by Dr. Neal Barnard.
Google is the portal into all things plant-based; millions of recipes and thousands of books are available. The Physicians Committee has a rich website, pcrm.org, with links to videos. Their daily podcast, The Exam Room, offers interviews with experts.
No special products are needed, other than a good knife for chopping! That being said, I make good use of an Instant Pot pressure cooker for beans, rice, and soy yogurt, and a Vitamix blender for creamy dips and sauces.
For restaurants, I like places that clearly label menu items as vegan. I don't want to deconstruct the menu, quiz the waitstaff, send them back to the kitchen with questions. So, a little online research pays off. I love Angelina's (Pittsboro) lentil soup and rice bowl, anything from Vegan Community Kitchen in Apex, many options from The Spotted Dog in Carrboro, and flavorful Persian dishes from Sage in Chapel Hill.
Barbara: What tips can you share for someone wanting to eat a more plant-based diet?
Karen: As much as possible, eat whole foods, not highly processed vegan junk foods.
Ditch dairy for a readily available plant milk. Replace ground meat with a veggie crumble. Add greens to every meal. Expand your grains repertoire—there's millet, barley, quinoa, and farro. Veggie burgers are a fine alternative to beef. Eat more oatmeal, beans, and fruit. Take B12; it's the only vitamin not available from plants. It is available in fortified plant milks though, so you might not need it. Don't count calories but "eat the rainbow" to give your body wonderful nutrition. Carbs are your friend. Minimize oils. Try new recipes and you'll find what you like, what to add to your regular rotation of meals.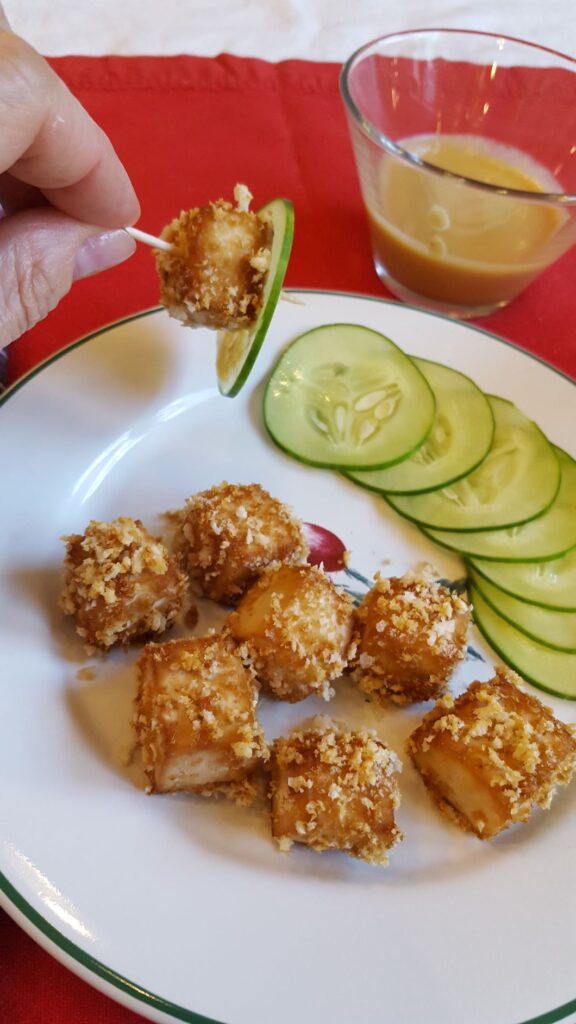 A few of Karen's favorite recipes:
---
Baked Tofu Nuggets
Easy to make, only 4 ingredients. Will keep 5-7 days (if there's any leftovers). Serves 4 in theory but we eat nearly all of it in a meal.
10 minutes for pressing, 10 minutes for marinating, 20 minutes for baking. Actual prep is less than 5 minutes.
Ingredients:
1 block extra firm tofu
1/3 cup low-sodium tamari or soy sauce
½ cup panko breadcrumbs (or regular breadcrumbs) – read the label; sometimes they have egg
1 tablespoon Italian seasoning
Preheat the oven to 425.
Remove tofu from packaging and press for 10-15 minutes. (If you don't have a press, just wrap it in paper towels, put it on a plate, put another plate on top, and add a heavy object to the top plate.)
Unwrap the tofu and cut into cubes, around 40.
Place in a bowl and pour tamari on top. Stir with a rubber spatula. Let sit for 10 minutes to marinate.
In another bowl (or a zip lock bag) place the breadcrumbs and Italian seasoning.
Add marinated tofu to that bowl or bag and shake to combine evenly.
Place the tofu on a non-stick baking sheet (I use parchment paper) and bake for 20 minutes.
---
Irresistible White Bean Dip
4 servings
Ingredients
One 15-oz can white beans (navy or cannellini), or 1 ½ cups cooked beans
juice of one lemon (about 2 tablespoons)
2 teaspoon miso
¼ teaspoon black salt (if not available, sea salt is fine)
1 Tablespoon tahini or almond butter
1 Tablespoon nutritional yeast
1 clove garlic
1 ½ Tablespoon water
Directions: Combine all ingredients in a small food processor. Purée. Taste, season with extra lemon or garlic if desired.
This bean dip is good on crackers (Wasa crackers are no-oil), or with veggies like cucumber, carrot sticks, or celery. It's also a nice addition to a sandwich. It can be diluted with a little balsamic vinegar for a tasty no-oil salad dressing.
---
Vegan Roasted Red Pepper Alfredo Sauce
2 cups cauliflower
1 12-oz jar roasted red peppers (about two)
1/2 cup raw cashews
1/4 cup nutritional yeast
1/2 tsp garlic powder
1/2 tsp salt
1 cup cooking liquid from boiling cauliflower and cashews
Instructions:
Bring a pot of water to a boil, add the cauliflower and cashews. At the same time, if you're serving this with pasta, you can cook it in another pot.
Drain the jar of red peppers. If you're using fresh peppers, cut them up and broil them until they are soft and the skin is blackened and peels off easily.
When the cauliflower and cashews are soft, add them into a high-speed blender like a Vitamix with 1 cup of the cooking liquid. Add in the nutritional yeast, garlic, salt, and roasted peppers. Blend sauce on high until completely smooth.
Toss pasta with sauce and enjoy!
Notes:
You can store this alfredo in the fridge for 3-4 days.
---
For more information on healthy, plant-based eating, as well as Karen's cooking classes, visit her website at:
Enjoy!